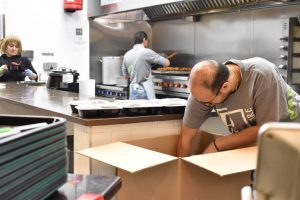 NEWARK, NJ — In Islam, Ramadan is a month of celebration, gathering, hospitality, family and friends breaking fast over bountiful meals, often at Mosque with the entire community.
Given the global pandemic, the collective aspects of Ramadan have been canceled this year. Though iftar may be a little lonelier under quarantine, Muslims in Newark are making the best of a difficult situation by serving their community however they can this Ramadan.
Omar Bareentto, secretary of the Islamic Society of Essex County in the Central Ward, is a transplant from Minneapolis, Minnesota, who normally relies on his masjid, family and friends to break fast. In a COVID-19-shuttered Newark, all he has is a roommate who doesn't observe the holiday, so iftar hasn't been much of an event.
"It's just tough not being around your loved ones, or going to your mosque and being with people who share the same commitment you've made throughout the day," he said. "I've been really spoiled by my mom's cooking, so I'm used to these large spreads. I have a really massive family back home — sometimes when we break fast it's 40, 50 people."
While Bareentto says it would be a fool's errand for him to attempt to replicate a home-style iftar, he's been trying to keep it exciting by ordering different cuisines. He video chats with his family, too, to talk and touch base (just not during dinner, because seeing what they're eating would make him miss home).
"Not having family around and friends, when I'm breaking fast, it's not the event that it used to be," he said. "It's just me, watching Netflix. Me and a burrito."
Bareentto would also typically head to the masjid some nights for prayer and iftar with the larger community, a time-honored tradition that also provides free meals to the public. For many Muslims in Newark, choosing to break fast at the mosque isn't just for the sense of community, but to feed their families.
Recognizing its role as an essential food source to those in need, The Islamic Society of Essex County teamed up with Central Ward Councilwoman LaMonica McIver's office to launch drive-thru iftar.
Since many of Newark's economically disadvantaged residents don't own a car, McIver's team and the Islamic Society of Essex County have been bringing iftar to the community.
"A lot of people rely on mosques to break their fasts, and the mosques provide charitable meals to individuals. That's especially true in Newark, a lot of people who attend the mosque are economically disadvantaged, unfortunately, so we've thought of an innovative way to give them meals," Bareentto said.
The endeavor has been a mutually beneficial deal for both partnering restaurants and the community. With business down during the quarantine, Pita Square owner Mike Eldib said the orders keep his team busy and give them meaningful work.
"They help us, we help them. It's not that busy, we don't have walk-ins, we don't have deliveries. But we still want to help the community," he said.
Eldib packs around 50 meals a day, which McIver's team picks up to deliver around sundown to the community members most in need. For seniors and people with disabilities who can't get very far on their own, the act of service is a welcome gesture from the city.
"We're excited to be able to help our Muslim community observe their religious holiday," McIver said.
In April, McIver's office announced it would be teaming up to feed senior citizens by pooling money from sponsors like the Hanini Group and using it to purchase meals from local restaurants. Drive-thru Ramadan is an extension of that program.